Once upon a time, a 7-year old girl named Sarah borrowed a book from the bookmobile. It was My First Baking Book by Rena Coyle. Inside the book's pages were recipes for cookies, breads, cakes, pies...the possibilities were endless! With the due date rapidly approaching, a couple of those recipes were photocopied (yes, judge away) and thoroughly enjoyed.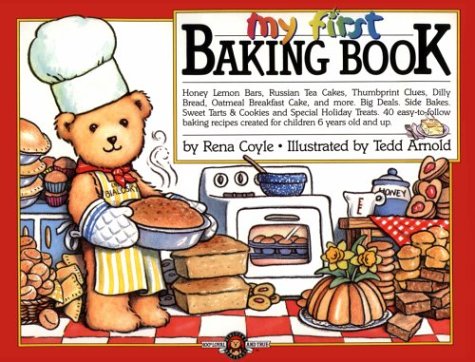 Years later, Sarah wished to borrow this book from the public library but all was in vain as the photocopied pages did not contain the name of the book or the author. She held onto those precious photocopied pages and treasured them as much as life itself. Meanwhile she searched online, using the terms "teddy bear" and "cookbook" as her only leads.
And her search paid off!
Today Sarah (now several years older and wiser) and I made Soft Pretzels.
They came from humble beginnings
Were rolled into submission
And shaped to our little hearts' desire!
The pretzels were baked to perfection
And thoroughly enjoyed!
And yes...even though we're both considered adults, we still play with our food :P
If you would like to get in touch with your inner child, the recipe is as follows:
Soft Pretzels (from My First Baking Book by Rena Coyle)
Ingredients
1 1/3 cups warm water
1 package (about 1 tbsp) active dry yeast
1 tbsp sugar
1/2 tsp salt
3 cups all-purpose flour
1 large egg
1 tbsp water
2 tbsp coarse salt
Directions
Preheat oven to 425F. Pour warm water into mixing bowl. Sprinkle yeast over water and let stand 5 minutes to soften. Then, stir until completely blended.
Add sugar, salt, and 1 cup flour. Stir until blended. Add 2 more cups flour 1/2 cup at a time, stirring to blend after each addition. The dough should be well-blended.
Sprinkle some flour over a clean kitchen surface an kneed dough until smooth and elastic, sprinkling with more flour if dough is sticky.
Pull dough into 12 equal pieces. Roll 1 piece into a rope about 15" long, then shape into a pretzel or letter.
Put the pretzels on a baking sheet lined with parchment paper.
Break the egg into a small bowl, add water and whisk together. Brush egg wash over each pretzel using a pastry brush. Sprinkle coarse salt over pretzels with your fingers.
Bake until pretzels are golden brown, approximately 15-20 minutes.